Owner: Suleesha the Hutt, AKA Suleesha the Salacious. (Neutral NPC)

Keyholders: Binary Goddess (pubside), Raylán (pubside; á = alt + 160), Elsi Bepel (impside)

Stronghold: Mos Jilna's Pirate's Roost (Tatooine SH that is cross faction)

In-Character Location: Tatooine, the Mos Jilna Province

Premise: Boasting a diverse and eclectic Bazaar, Pitfighting Arena, Bounty Broker's Association Office, nuanced nightlife scene, and almost no Galactic oversight, the township of Mos Jilna is meant to operate as the Galaxy's one stop shop for trading and engaging in illicit activities, goods, and services.

Security: Mos Jilna is currently protected by a mixture of mercenaries ( <Blacksmith Tomahawks> ) and street gangs (Currently just NPC forces, but I'd love to bring in any interested guilds who wish to operate as a local criminal presence) unified under the banner of Suleesha the Hutt. In addition to repelling consistent attacks from Tusken Raiders and other hostile fauna in the region, security forces in Mos Jilna execute repercussions based on an infamy scale, with consistent offenders receiving more harsh consequences than those in search of just a little too much fun. Violence is not, strictly speaking, altogether illegal within city limits, but those who engage in it usually do so within the confines of the local Pitfighting Arena, where credits can be made betting on the outcome. Fighting within the Bazaar and the spaceport is strictly prohibited, but in other parts of the city, most turn a blind eye to it.

Notes: I intend to to start having either a weekly or biweekly event revolving around the Pitfighting Arena. Details to follow soon™.
Welcome to the small province of Mos Jilna, located on the planet Tatooine. Much like its sister province,
Mos Ila
, the starport was originally built by Jawas, looking to promote trade with star-faring peoples. When the
Great Galactic War
broke out across known space,
the Sith Empire
quickly took over control of both settlements, curbing what had functioned as a prosperous criminal hub for decades prior. However, when
the Eternal Empire
arrived on the scene in 17 ATC, the Imperial's outpost was abandoned.
Their departure marked a rapid return to the province's origins. Criminal syndicates returned, trade among Jawas and other remote species increased, and Mos Jilna became host to one of the Galaxy's most beloved, yet well kept secrets: deadly Pitfighting Tournaments to rival the bouts fought in
Zakuul
's Arena Grand.
These days, the province's population is estimated as being less than a thousand permanent residents, but when it plays host to the deadly contests for which it is known, that number can doubled, and even triple.
Like so many of Tatooine's settlements, Mos Jilna finds its roots among the Jawas, who built the spaceport to extend their trading prospects out into the stars. Though trade is only one aspect of its story. Founded sometime after the Jedi Civil War, the settlement has fallen under the jurisdiction of a variety of individuals and governments, whose contributions tend to wither and fade under the rule of their successors.
First came the Jawas. Then the mining companies. Czerka was the largest of them, but was neither the first or last to realize that the region contained precious little ore of value. In the absence of a profit margin, each company would eventually give up on the spot, leaving their tools and vehicles to whoever they could convince to buy from them. In many cases, only the Jawas and Tatooine's sands laid claim.
Throughout lulls in galactic activity, the spot would serve as a haven for criminals seeking to live on the fringes of scrutiny. Always there existed gambling. Sport and the passing of credits were excuse enough for the small spaceport to stay active, until one day, as war spread across the galaxy, and Jedi and Sith fought for world after world, Tatooine fell under their microscope. Mos Ila and Mos Jilna fell under Imperial control, even as Anchorhead -- one of the planet's oldest known settlements -- fell under Republic control.
For a time, there was a tentative peace. Years after the Treaty of Coruscant had been signed, and the Cold War's fragile peace lapsed only to bring war anew, the Eternal Empire made its presence known on the galactic stage. Taking over whole systems with ease, Tatooine was soon under the watchful eye of a Star Fortress. It was all the incentive the Sith needed to abandon Mos Jilna.
In the waning years since, the Hutt Cartel has taken over control of the port, leaving it in the charge of Suleesha the Hutt. The landscape has changed a great deal in that time. Vice has taken hold of the spaceport in a way that the region never knew previously. Gambling has spurned on tourism, which has increased trade, and increased trade has lead to bigger and better things upon which to gamble. Credits can be made everywhere if one knows where to look. Recently, the spot has become home to an up and coming pitfighting ring, which places both men and beasts alike in contest against each other. For those who do not enjoy the more commercial spectacle of Zakuul's Arena Grand, or do not see eye to eye with Emperor Arcann and his Infinite Fleet, it is an ideal alternative.
Spoiler: Bazaar & Entertainment District
Show
Spoiler: Bounty Broker's & Commercial District
Show
Spoiler: Abandoned Imperial Outpost 0179-Osk
Show
Spoiler: Pitfighting Arena
Show
Mos Jilna's Bazaar is home to some of the most diverse wares found anywhere in the galaxy. This stems from a number of different causes, which include but are not limited to: its association with criminal gangs who have access to many illicit substances; the local Bounty Broker's Office which calls the small settlement home, making it a hub for spacers, hunters, and wealthy patrons of the BBA; Jawa traders whose endless supply of salvage can be ripe with the remains of many exotic technologies and artifacts; And a population of refugees and vendors alike who travel specially to Mos Jilna in an effort to sell their commodities to the spaceport's affluent consumer base. With so many factors in play, everything from weapons, to armor, to exotic flora and fauna can be found within Mos Jilna's bustling hive of commerce. But that's not all.
Mos Jilna is also home to some of the galaxy's best pilots, and is frequently sought out when the need for a skilled worker is key.
(OOC Note: This section is still a WIP. The reason for that is is that I would like Mos Jilna to operate as a middleman of sorts for various IC businesses to come together for trade purposes. Planning a business deal that a board room just isn't seedy enough to play host to? Mos Jilna is the place. In other words, I would like Mos Jilna to act like a billboard for various guilds and individuals, so they can advertise their various skill sets through it in an effort to find RP.
For example, Johnny the Smuggler is in need of work, and leaves his contact information in the Mos Jilna registry. Unscrupulous Business Man Bob sees the ad and contacts him about the prospect of doing work together. Basically, Mos Jilna acts as an easy template for people to meet up and encounter one another, and provides an IC location for them to meet that is free of OOC game mechanics, such PC's who may be leveling/trolling, or in-game mobs.
Additionally, I would like to open a PC-run branch of the BBA, where players who have collected a bounty can go IC'ly to turn in their captured or killed trophies and receive payment. I still have a good deal of logistics to figure out, including a discussion with
Rax-Tex
about clearing said bounties through the forums, but if there is interest in the idea, and perhaps some bodies to help run the BBA offices, then we'll be in business.)
All manner of persons inhabit Mos Jilna. Spacers, Thugs, Refugees, Merchants, Hunters, Gamblers, Wealthy Consumers, Miners, and many more.
| | |
| --- | --- |
| Vendor | Example Character 3 |
| Pit Fighter | Example Character 4 |
(OOC Note: This is where all interested parties will be displayed, with their character's name/job up above, as well as a link to that person's enjin profile. Mos Jilna will be as much a networking service as a SH, and hopefully, through it, lots of different people can find the specific brand of RP they're looking for while keeping in relative proximity to other RP-ers. No matter what they do, from sales, to hunting, to smuggling.)
Games! Everyone likes games. And in the town of Mos Jilna, only the highest stakes can draw a crowd. Welcome to Sarlacc Circle™. Named after one of Tatooine's deadliest native beasts, only the very foolish enter the maw of the beast, and only the very lucky leave it it alive. The acclaim that goes with winning in the Sarlacc Circle is rivaled only by the credits that can be won if one's lucky streak holds out. Whether man or beast, one's only hope of escape is to prove victorious before the crowd.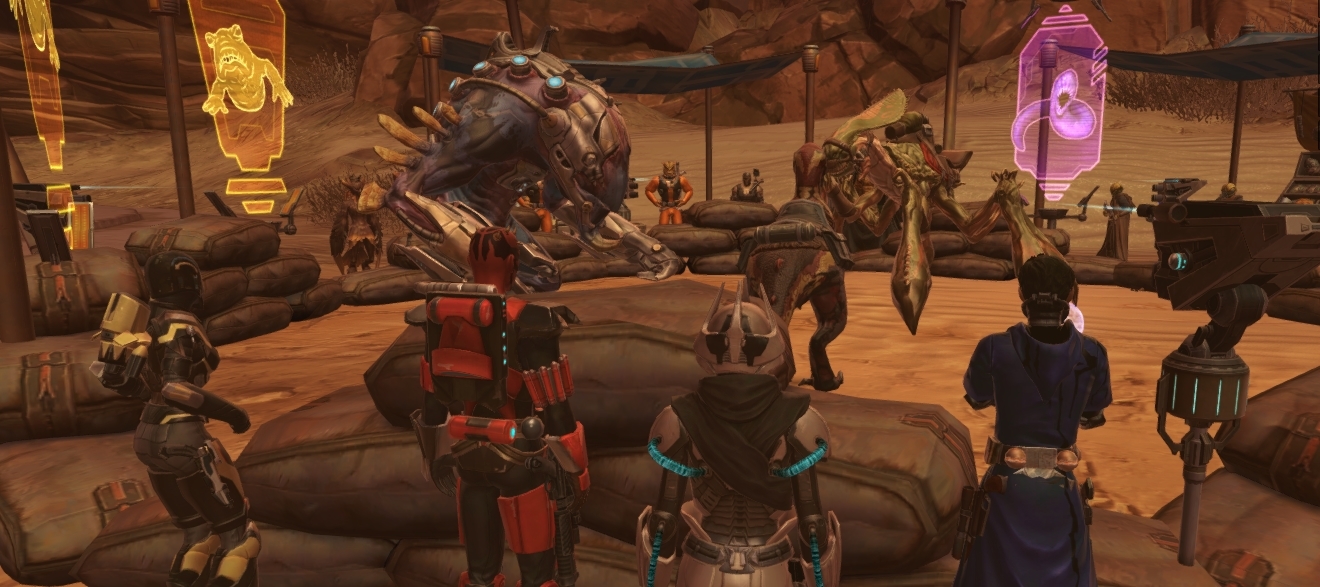 (OOC Note: It is my sincere hope that the pit fights in Mos Jilna will be one of the big IC draws to the SH week after week. Now, I haven't had the time to fully flesh out the system that I'll be using yet, nor the opportunity to experiment with a live event yet to see what works and does not where rolls are concerned, so for now, this area will remain largely WIP in the days leading up to our first event. With that said, if there are those out there who do have suggestions for a simple, yet engaging /roll format in which to conduct cross faction duels between player characters as well as non player creatures, I'd love to have some feedback.
With that said, I intend to keep an ongoing 'Hall of Fame,' which will keep track of all those who participate in the Sarlacc Circle, and their corresponding W/L ratio.
Sarlacc Circle Hall of Champions:
| | | |
| --- | --- | --- |
| Wins: | Competitor: | Losses: |
| 11 | Example Fighter 1 | 0 |
| 0 | Example Fighter 2 | 11 |

Record:

Undefeated

Bantha Fodder
Okay! First off, if you read all that, I want to start by saying thank you. Sincerely! I've been working on this project for several weeks now, and had the idea for this particular SH since Galactic Strongholds were first released. Many hundreds of millions of credits later, with hours spent working on graphics and things, getting feedback from friends about the way the SH looks, feels, and operates, and all around struggling to make the ideal RP setting I can, I feel pretty good about where Mos Jilna is at. There's still plenty to be done, but it is my sincere hope that the area will become an outlet for a vast number of RP-ers, and will hopefully help bring people together.
For myself, RP has always been about trying to create something compelling, and then seeing it through to the end. Whether it takes the form of characters, plotlines, or in this case, a living location, I want to tell the whole story. To that end, trying to take on the life of an entire city is a big undertaking that a lone person can't hope to do justice to. I need help bringing the place to life, and so I'm really hoping that between the various IC draws, Mos Jilna can thrive, and start to become its own entity.
My goals are definitely ambitious. I recognize that, and I also don't expect Mos Jilna to become a hub for RP overnight. There's lots of planning I still have to do, things to sort out, and events which I intend to announce soon™! In the meantime however, if this sounds at all interesting/appealing to you, PLEASE don't hesitate to reach out to me. The more people involved, the more options available.
In closing, I want to give some shout outs to a host of people in the community whose feedback was super helpful in getting the ball finally rolling. To start, big shout out to everyone in
<The Virtue>
, but most especially
Ravnie
,
Daniele
, and
Mouse
, who looked the place over extensively with me on multiple occasions, and offered lots of helpful suggestions.
Valk
, who talked me into redoing the greenhouse that became the Sarlacc Circle,
Nestor
and
Dr. Cai'bek / Zemphis
for listening to me ramble on and on about tiny details, and
Eise
for selling me the last handful of decos I needed to finish the place. Thanks everyone! <3
(This will almost certainly be edited countless times over the coming days. Check back often to see what's new!)